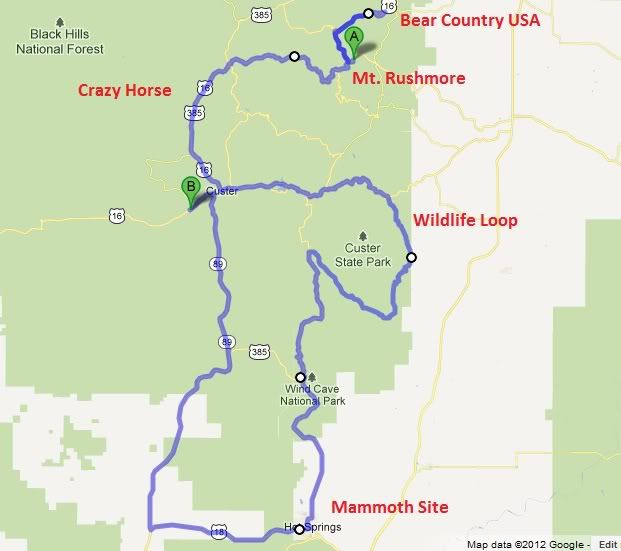 The RV has two tanks containing unsavory liquids. One is the black water tank, which contains everything that was flushed down the toilet. The other is the grey water, which is everything from the sinks and shower. Even though we didn't appear to need to dump them very often, I started dumping them right before we left any campsite. I would hook up the waste hose, release the black water, and then flush it with the grey water. And if the grey water tank wasn't full enough, I'd run the sink a bit in order to get a good volume in there for a good bit of pressure. In my mind this moved everything out of the tube and made the hose (which I had to pack back up) a lot cleaner. It seemed wrong to drive around with a bunch of wastewater. Gas mileage was already dismal (below 10mpg), so I didn't want to pay more to haul extra crap (literally) around with us. As Chamillionaire always says, you're "not gonna catch me ridin' dirty."
By morning the storms had passed, so we left the site to go back to Mt. Rushmore. The National Park Service offers an annual pass for $80 which allows access to all National Parks and National Monuments for an entire year. We had bought one before and it works pretty well when you are hitting a lot of parks in succession. Mt. Rushmore is sneaky though. It's technically free to get in (even without the pass), but you have to pay for parking.
The sculpture at Mt. Rushmore began in 1927 and was finished in 1941. It really wasn't completed as originally imagined – the sculpture was supposed to extend down further to show the men's jackets – the project was perpetually underfunded, the sculptor Gutzon Borglum died and his son was forced to take over, and the country found itself with other priorities in 1941. The total price tag came to $900,000, and then the park was renovated for $56 million in 1998. Yeah, you're going to need to pay for parking. Here's where some of the money went:
The history of Mt. Rushmore is very interesting and worth investigating, though I won't bore you with all of it here. But if you look closely, you can see to the left of George Washington where they originally carved Millard Fillmore, then blasted him back off because, well, Millard Fillmore sucks.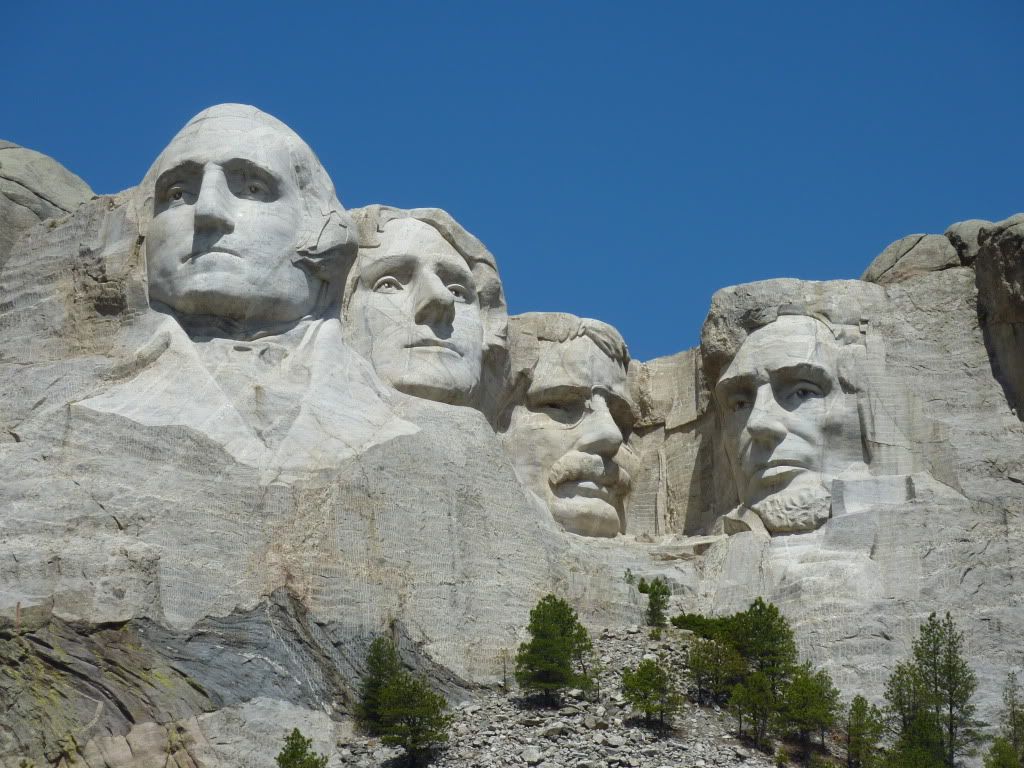 The portions of the mountain which were blasted off were left on the mountainside, which has left a precariously unstable pile of rubble that is prone to avalanche.
Here is a sculpture of the sculptor (isn't that like dividing by zero?) who also (shh) was a member of the Ku Klux Klan.
But the day was moving on and we were trying to aggressively maximize South Dakota landmarks, so after taking 8GB of pictures of the same four faces, we left for Bear Country USA. Bear Country is a drive-through park with elk, wolves, bears, etc. At the end of the drive, there's a walk-through area with baby animals of many varieties. These guys were a lot of fun to watch.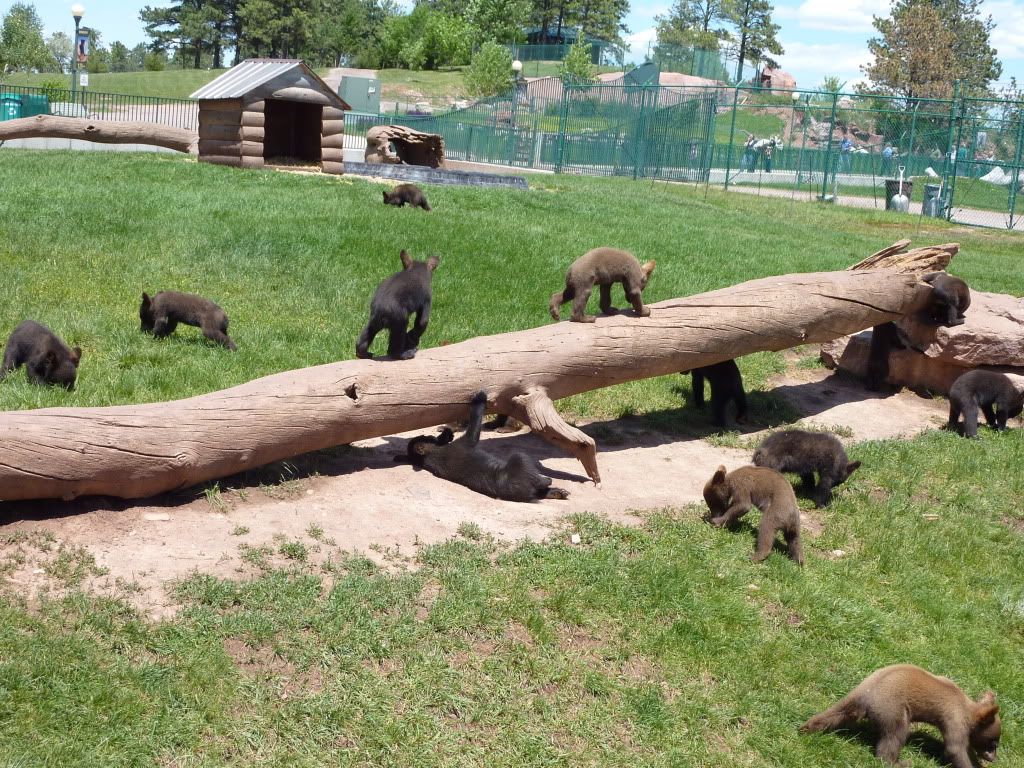 Just down the road from Mt. Rushmore stands the Crazy Horse Memorial. As Chief Standing Bear of the Lakota said, "My fellow chiefs and I would like the white man to know the red man has great heroes, too." The Crazy Horse Memorial was actually started in 1948, but it wasn't until 1998 that the face of Crazy Horse was finished. Interestingly enough, no one really knows what Crazy Horse's face actually looked like. The face on the mountain was achieved via use of "word pictures". No, I don't know what that means – I'm just telling you what I read. The sculptor, Korczak Ziolkowski, died in 1982, but his wife and 10 children continue his work.
It was $20 to get in, but that price included scenery and wildlife fun. Here's what the memorial will look like in 2167.
The kids were able to bring home an actual rock blasted from the Crazy Horse Memorial (for a small donation). In this picture, the sacred rock pile is back and to the left. You can't get THAT at Mt. Rushmore! Well, maybe you can, but you'd need to slip them in your jacket.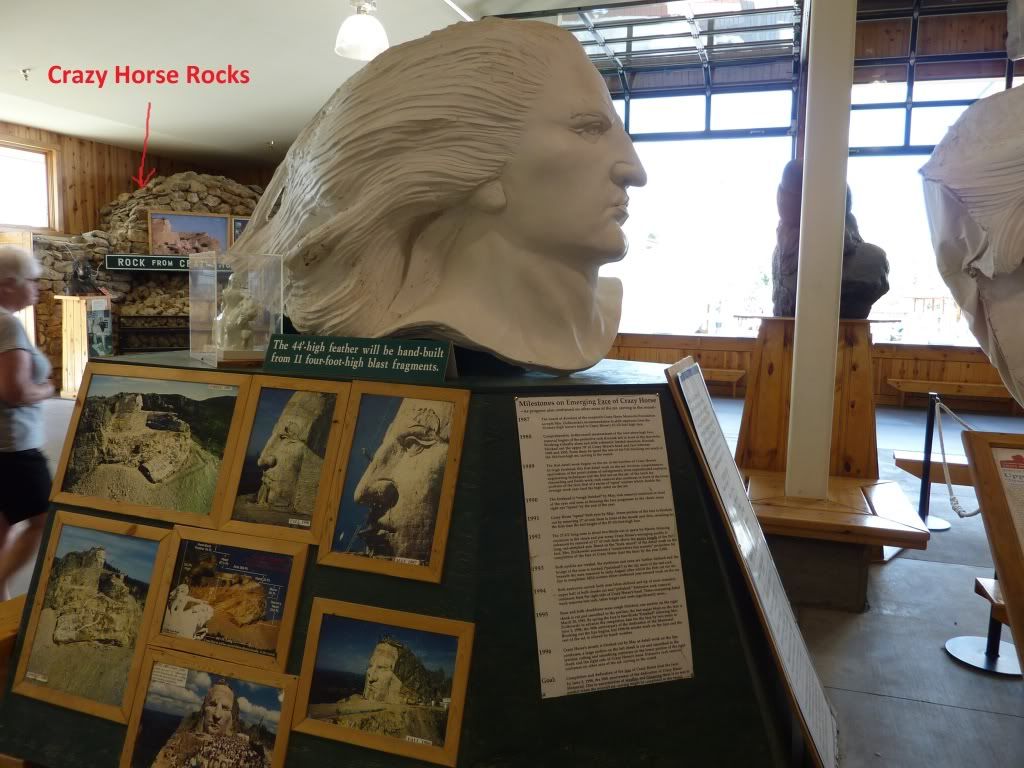 Even though the sculpture seems to have so very far to go still, the Lakota should feel immense pride at this beautiful tribute to their amazing and honorable spirit. I just wish I hadn't lost $50 on the slot machines.
Next stop was to be Custer State Park's wildlife loop. We wanted to check out their bison herd in case we didn't see any in Yellowstone. And here indeed is the Higgs Bison.
Signs, literature, etc. spare no effort to explain that you should not get out of your car, you should leave the animals alone, and you should mind your children. Luckily, people always follow directions.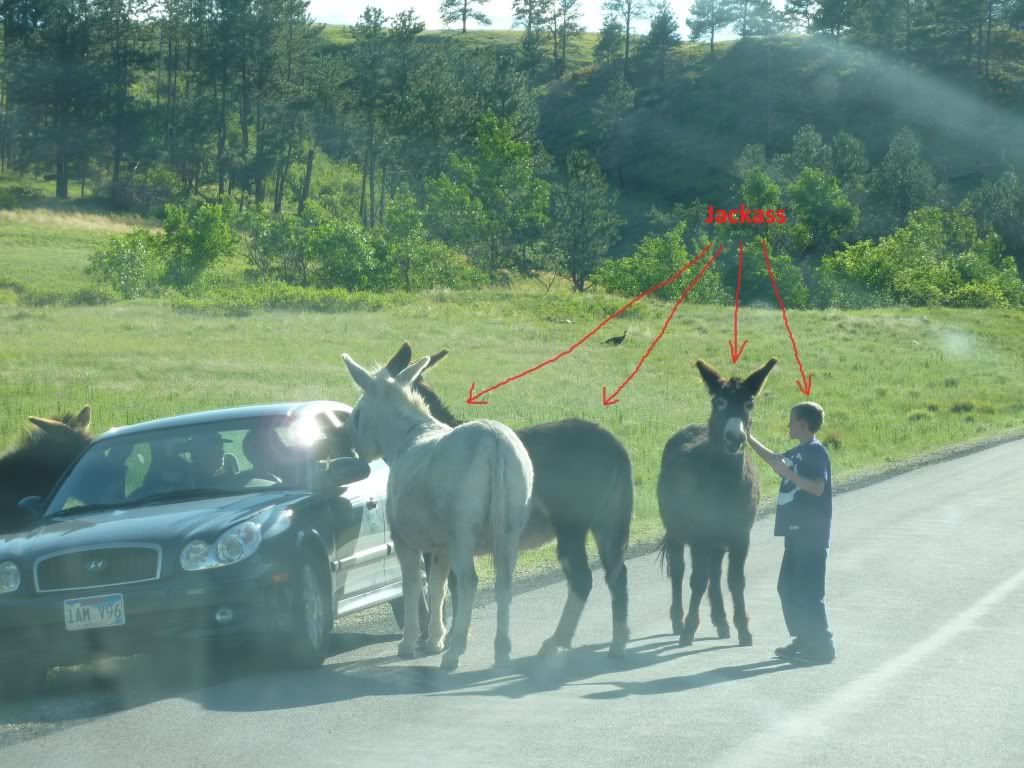 Continuing past Wind Cave…ya seen one cave, ya seen em all…we reached Hot Springs with about 30 minutes until closing at Mammoth Site. On the site some 26,000 years ago, a sinkhole trapped a large number of Columbian and woolly mammoths as well as other creatures. In 1974, it was discovered during the excavation for a housing development and is now protected by a climate-controlled building.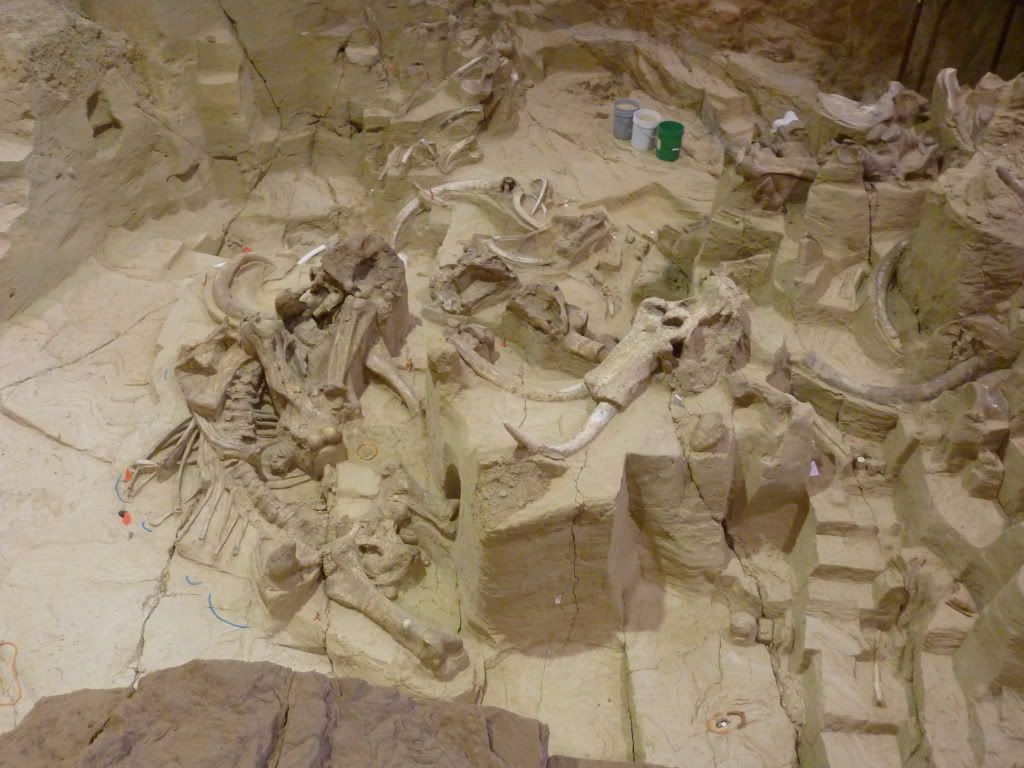 The femur of a mammoth is pretty gigantic. I really have no idea why I'm doing this, but it just seemed the right thing to do.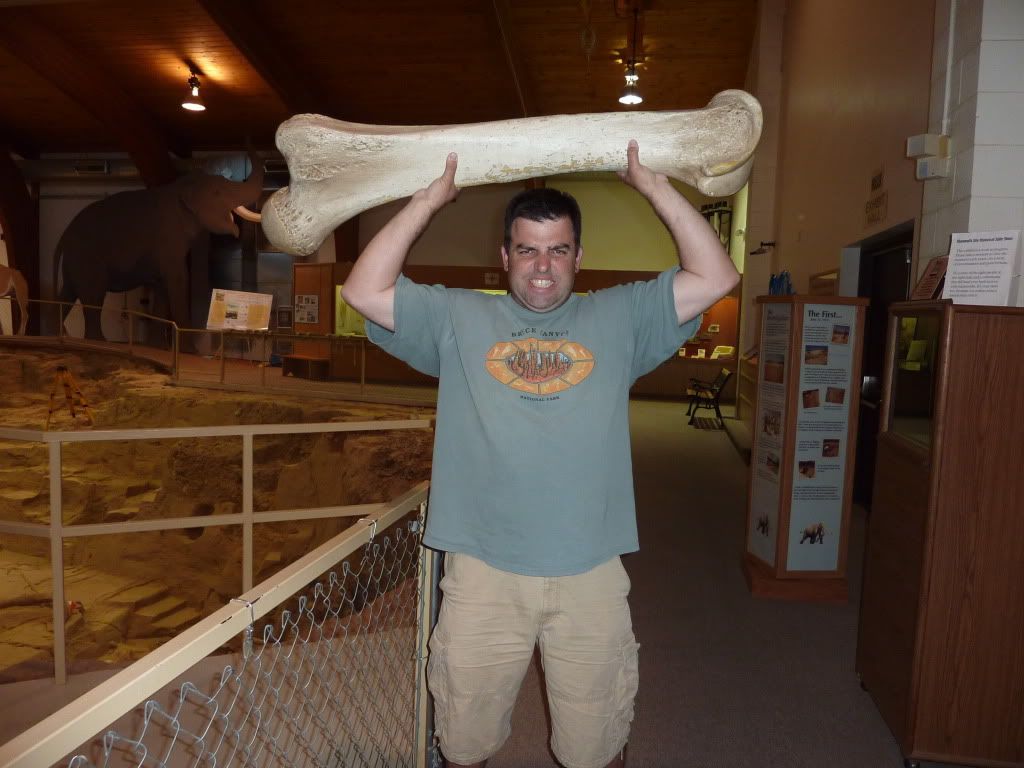 Having successfully checked off all items on our list for the day, it was time to head to our campsite in Custer. It would be our last stand in South Dakota.
The Big Pine Campground received very good reviews on TripAdvisor and we certainly found no problem with it. I remembered several reviews stating how clean the bathrooms were, which I thought was weird, but no lie, those were the most beautiful public bathrooms I've ever seen. This is our site with the legendary bathroom beyond.
RV Adventures to the National Parks – Day 4: Custer, SD to Cody, WY