Surgeon Shortage Pushes Hospitals to Hire Temps–The Wall Street Journal
From: temp4@brigham.com
Sent:  Monday, May 6, 2019 9:15 AM
To: prettylady1@gmail.com
Subject: Where r u 2day?
Hey there gurlfriend!  I'm at my placement for today, but a teensy bit disappointed.  The temp agency asked me if I'd mind doing some filing at Brigham's and I said sure, I love their ice cream!  Then I get over here and find out it's a hospital!  I hate that antiskeptic smell!

Brigham & Women's Hospital, Brigham's Ice Cream:  Note the similarities.
Oh well, I O I O so off to work I go.  Let me know if you're in the neighborhood–we'll have lunch!
Leeza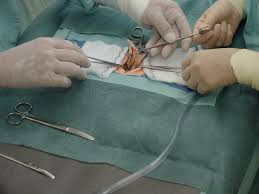 From: temp4@brigham.com
Sent: Monday, May 6, 2019 11:43 AM
To: prettylady1@gmail.com
Subject:  Gross!
Well, I finished all my filing and started to flip through US Weekly when this mean nurse saw me and said if you don't have anything to do, come down to the operating room we have to take out somebody's appendix.
Well, sure, glad to help I said, but I wasn't a Girl Scout or nothing, I don't even know how to tie a tourniquist.  They put me to work, it was pretty easy.  They cover up the patient and all you have to do is cut down through this little hole they make for you.  The appendix looks like a little sausage so it's easy to find.  I'm going down to the cafeteria now but I'm not going to have a hot dog!
L
From: temp2@bethisrael.com
Sent: Tuesday, May 7, 2019 10:32 AM
To: prettylady1@gmail.com
Subject:  Nose job
Hey pretty lady!
I'm over at Beth Israel today.  Typed some dictation this morning, then they called me in to help on a "rhino plasty."  What's that I said but everybody was so busy washing their hands and putting on their green pajamas they didn't pay attention to me.  Anyway, I figured if it's a rhino plasty I'm supposed to make somebody look like a rhino, right?  I did my best–I was just glad it wasn't an elephant-plasty!
Afterwards they told me "rhinoplasty" is a nose job, so, um, I'm not sure the patient's gonna like it.  But what do I care?  I'll be at a new job tomorrow!
Leeza
From: temp2@SanctaMariaHospital.com
Sent: Wednesday, May 8, 2019 1:30 PM
To: prettylady1@gmail.com
Subject:  Heartbreaker
You will not believe what just happened to me!  I got this real cute patient to operate on–I noticed he didn't have a wedding ring on–and he kinda smiled at me as he was passing out.  Then they handed me the clipboard and I got to operate on his heart!  So I could see if he liked me or if he just felt goofy from the gas.
When I cut in to him I couldn't find anything that looked like a heart, so I moved some of the stuff around, you know, thinking maybe it's back behind his lungs or something.  I had to disconnect some of the tubes–I hope I hooked them up right when I was done!
They had free pens at the reception area to celebrate a new outpatient clinic they're opening.  I got two–one for you and one for . . . holy crap–I think I left one in his aorta!
G2G
From: temp3@BBSIMWH.com
Sent: Thursday, May 9, 2019 11:15 AM
To: prettylady1@gmail.com
Subject: Uh oh
I'm over at Brigham's again, still no ice cream.  Come to find out that Beth Israel and Brigham & Women's and Sancta Maria have "merged" into Beth Brigham Sancta Israel Maria Women's Hospital, so the family of the nose job patient has been prowling the halls looking for me.  But it's not my fault–I did the best I could!  At least with Word or Excel there's a little "Help" icon or drop-down menu or something you can go to if you have a problem, but in an operating room, nooo! You're flying solo.
Have to do a liver operation today, and I'm meeting my "heart" patient for a drink after work.  Hope the liver doesn't come with onions!
C U L8ter
From: temp42@MegaHealthCenter.com
Sent: Friday, May 10, 2019 4:25 AM
To: prettylady1@gmail.com
Subject: Outta here
Today I'm at MegaHealthCenter, which used to be Beth Brigham Sancta Israel Maria Women's Hospital.  They shortened the name because people were wasting too much time typing it.
What a week–I'm exhausted!  As soon as I get my check, I'm going to run to the bank and cash it.  Everybody here says I need to buy some "malpractice" insurance, but I called my friend who's a broker and he said you don't need it unless you're a doctor, which obviously I'm not–duh!
U want 2 meet 4 drinks?